So far we have had four successful costume contests. Here are links to the winners in our previous thread:
Contest #1 - Steampunk
Contest #2 - Golden age Heroes
Contest #3 – Humans dressed as animals
Contest #4 – Halloween/Bloodmoon
The theme for our fifth contest is ....
Mythology
In honor of all the hard work omeewan has done for me I am taking his suggestion for this contest.
The objective is to make a toon that represents or is somehow connected to a real life myth. As a tip, myths typically involve gods or supernatural heroes. They generally take place in a primordial age, when the world had not yet achieved its current form. They explain how the world gained its current form and how customs, institutions, and taboos were established.
PROTIP: Take ingame screen shots since the Rate My Champion (RMC) pics never show how good the toons really look.
Rules:
1. Make a toon that follows the theme or post one that you already have.
2. Submit screen shots in this thread before the end of the contest. Please no RMC pics. They distort toons and are hard to judge.
3. Have fun!
Prize:
The winner will get to pick a future costume contest theme.
This contest will close on Tuesday, November 10th.
I will post the winners that night.
Also, costume contest #6 theme will based on a theme that Tezcat selects so spam him with your requests/suggestions/ideas!
Good Luck!
Someone has been visting the C-Store I see .... :D
Icarus: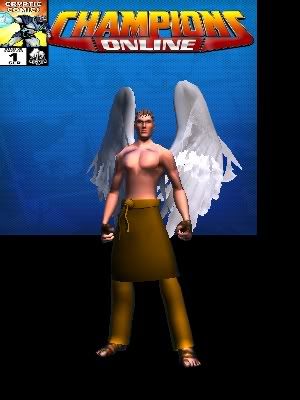 Rather simple, but this contest needs at least one version of him :p
Quote:
Originally Posted by Adogg
Someone has been visting the C-Store I see .... :D
where else am i gonna find bronze wings :D I was going for a tech-ish look for armor.
Oh, and I intend to put up more entries :D I love mythology
This....this is one of the most awesome characters I've seen....
Ah well. Not great, but fun nonetheless..

Gaia, the Earth Mother, and Odin in battle dress.
| | |
| --- | --- |
| Posting Rules | |
All times are GMT -8. The time now is
03:39 PM
.