Hey guys.
Downloaded the Trial version of Champions Online and played it for a few hours. I know its going F2P soon just wanted to check it out.
Anyway, booted up the launcher this afternoon (already been patched) and hit "PLAY", but I'm getting a Fatal Error come up saying "Error reading application id. Please either write it to steam_appid.txt or use the launcher!"
Well - I am using the launcher
That, plus I cant find steam_appid.txt. If I run it straight from the root folder, same issue.
Don't get what the issue is suddenly, because I had played it less than 24 hours ago.
No problem with my PC, was running it perfectly.. No lag, FPS drops and the likes.
Uninstalled the game and reinstalled, still no solution.
Screenshot attached - Any help you can give me will be very much appreciated!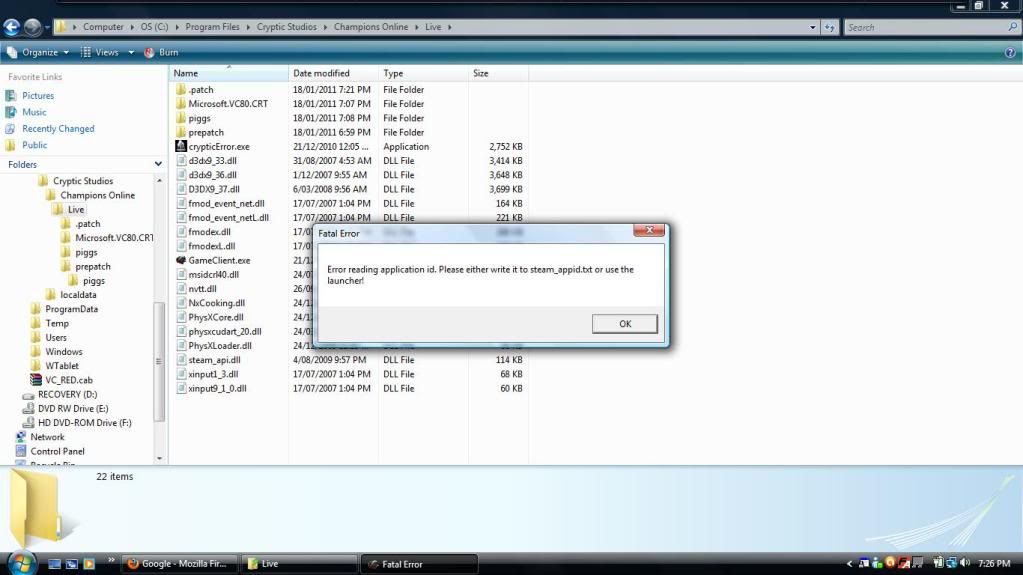 Edit: Problem seems to be fixed. I seem to be able to play just fine again.
Hello, since i'm experiencing the same problem and unable to find any solution neither in the forum nor by substantive manipulations, i'm interested in how did you manage to solve it. Would you please be so kind to reply?

Edit: problem seems to be solved after a number of reinstallations of the game.
| | |
| --- | --- |
| Posting Rules | |
All times are GMT -8. The time now is
09:49 PM
.