Grab & Hold Creature

Mostly for team play. So one of your allies benefits from this. Crushing damage applies. Only applies to enemies.

Grab & Throw Creature Applies crushing damage, applies concussive damage on impact. Only applies to enemies.

Grab Creature and hold, Flying Upgrade Can carry two if strong enough. Applies crushing damage if carrying one enemy. Can drop from any height. Concussive damage applies on impact mulitplied by distance fallen. Can make team travel & escort missons easier.

Drop Kick, Flying, Upgrade For the enemy. Applies concussive damage once, and twice on impact mutliplied by distance falllen.

Push/Shove Could be handy on the edge of a cliff.
Grabbing of any sort would be VERY difficult to implement. You would have to:

1 ) Know the size of the character using it

2 ) Know the size of the subject

3 ) Calculate which of DOZENS of animations would be most appropriate to use

And by "Size", I mean nearly ALL of the sliders - if you just grab the arm, the computer would need to calculate:

For the Grabber: Height, Leg Length, Arm Length, Body mass, Hand Size, hand Length

For the Grab-ee: Height, Leg Length, Body mass, Arm size, Arm Length, Bicep size

May not seem like a lot, but that's twelve different measurements, with (let's be conservative, there's LOTS more than) five basic settings (low, mid low, mid, mid high, and high) each, which makes 248, 842 potential combinations.

Oh, and the grab-ee would ALSO have to know those calculations and choose ITS most appropriate animation.


ON THE OTHER HAND, the drop kick, and the shove, decent and do-able. The former probably in Martial Arts, the latter probably in Might
I would keep grabbing and grabing as partt of the flying upgrade simple. The grabber would always grab the body of the subject and weight would always be calculated just like they were picking up a inanimate object.

I 'm not fussed about grabbing by other body parts.

Lets just keep this simple.

I wouldn't be bothered with diffrent combinations, and character weight, not size would only figure into it.
But... how would someone set to the smallest body/arm size grab some of the larger enemies? Would these powers be disabled vs giant enemies, like mega destroyer? What about non-humanoid enemies, like wolves or sharks? You'd have to add a "weight" value for each enemy type now.

A better idea might be to add a power or two where your character scoops his or her hands under the enemy then lifts to flip them or such. Another possibility would be more powers like that ice one where you send a column of energy/whatever shooting up from under the enemy to toss them.

Taking your idea and mine, and adding in some extras, would be a great basis for a gravity set...
I guess you have a point there with the giant robot, but I have a photo of one of my flyers carrying a Humvee Transport through the air, flying back towards Greenskin base.

Why can't other characters & bots , be treated as objects in this way?

Seeing that they are still alive, I would give than a chance to wriggle free while they are being held.

Come on now, it's anathelma to Superman.
So, why can't we do this with other toons.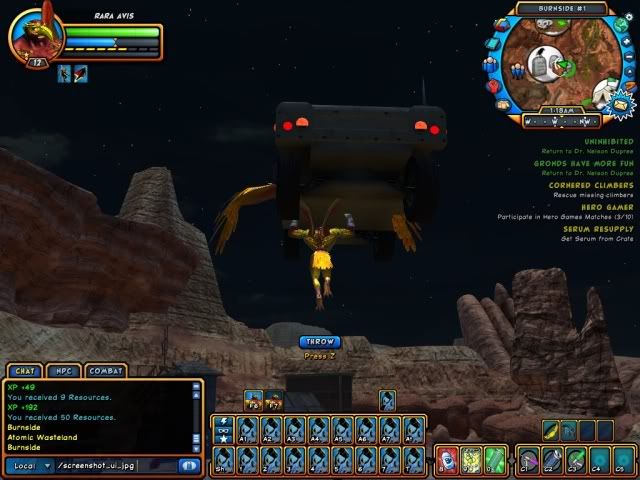 Although I understand if impossible to move or atleast difficult ot move something with to many moving parts, otherwise I would like to think that all objects can be moved.
Perhaps evry character, regardless of size, should all weigh the same and I wouldn't extend this ability to trying to lift boss creatures, or their collossal sized pets.
| | |
| --- | --- |
| Posting Rules | |
All times are GMT -8. The time now is
06:40 PM
.